Events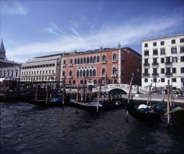 Venice's public holidays include Liberation Day (25 April), Labour Day (1 May), the Feast of the Assumption (15 August), All Saints' Day (1 November), the Feast of the Immaculate Conception (8 December) and the Feast of Santo Stefano (26 December). The year kicks off with the Regata delle Befana, the first of the lagoon city's 100-plus regattas, held on 6 January (Epiphany). The major event of the Venetian calendar is February's bewigged, bemasked and berobed Carnevale, the event that's spawned a million pastel postcards of pierrots and columbines looking unduly pensive. In May there's the Festa della Sensa (Feast of the Ascension), when Venice celebrates the Sposalizio del Mar (Wedding with the Sea). The Biennale arts fest is held every odd-numbered year in June in the pavilions of the Giardini Pubblici. July's July's Festa del Redentore is the festival most celebrated by Venetians themselves, with a regatta and fireworks festival. The Venice International Film Festival, Italy's version of Cannes, is held annually from late August into September at the Palazzo della Mostra del Cinema on the Lido. The Regatta Storica in September is a historic gondola race along the Grand Canal that's well worth catching. November's Festa della Madonna della Salute procession crosses the Grand Canal via a pontoon bridge.
Markets
The daily fruit and veg market of Rialto is a colourful way to see the bustling buyers of daily produce. Carnival time is even more colourful as the stall holders dress up in costumes - that must be a great sight! Go in the last hour of trading and you can get half price bargains too.
Rowing
You could indulge in a spot of rowing at Venice's oldest club, Reale SocietÓ Canottieri Bucintoro.
Concerts/Theatre in Venice
Not famous as well the Fenice theatre, the "Teatro Malibran" represented for much time the light theatre in Venice, with representations of comedy and "light" tragedy (but originally was dedicated to the music). Last years, specially after Fenice's fire it was used more with classical operas and concerts.It's very very close to Marco Polo's House. Built in 1677 with the name "Teatro di San Giovanni Grisostomo", new owners built again it in 1834 and thanx to the famous singer Felicita Garcia Malibran they chosed to change the name in Teatro Malibran..
Carnival Time
The Venice Carnival is the most internationally known festival celebrated in Venice, Italy, as well as being one of the oldest. This congregation of masked people, called Venice Carnival, began in the 15th century, but the tradition can be traced back to the beginning of the 14th Century..