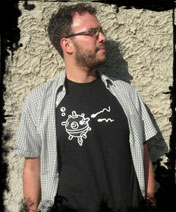 What is DeFusion
DeFusion is an independent street wear label based just outside Orlando Florida, founded in 1999 by two friends. Inspired by different styles of street art, graphic design, music and the city.

A lot of focus is spent on design content/ colouring and all of the artwork is produced in house by the two co-founders Pablo and Matt.

Clothes created by DeFusion respond to the authors' necessity to subvert the conventional and to make it special and different. At DeFusion we don't intend to upset, but we do in spite of that. Nevertheless, we don't consider this aspect very important. We also don't mind whether we offend. DeFusion does not apologize or acknowledge any responsibilities. DeFusion uses clothing to reflect ideas, concepts and contradictions that encircle our everyday lives.

This is done from an indifferent, aggressive, modern and sexy point of view. DeFusion is young and against motionless concepts. DeFusion doesn't change the world, but it reflects it's ambiguities through an attitude. We judge and will be judged.DeFusion is on the street and not in art gallery. Here's your chance to acquire a piece of prÍt-a-porter art.